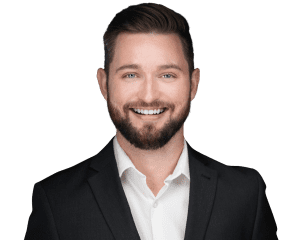 My name is Dylan Fitzpatrick and I am a real estate professional the beautiful Okanagan. I was born and raised in the Kootenays, and moved to Kelowna in 2012. Living here provides a lifestyle like no other. The skiing, golfing, lakes, wineries, and of course delicious food make this area special. I am grateful to call the Okanagan my home.
I started my Okanagan life at the University of British Columbia, graduating in 2016 with my Bachelors of Management. My professional life started in commodity sales, focused on trading building products across the US and Canada. As a result, I have gained expertise in reading housing trends. The experience also built an understanding in what goes into a well built home.
I knew that I wanted to help people achieve their goals and build long term connections, which drew me to real estate. I work to provide ongoing, valuable services beyond the buying/selling of your home. A client of mine will always have a trusted advisor when it comes to real estate and anything related. I work with purpose, and focus on implementing proven processes in achieving results.
I am primarily focused on residential real estate and investment properties. Whether you are looking for your perfect family home, or looking to expand your rental portfolio, I am knowledgeable in assessing opportunities and helping my clients achieve their goals. I look forward to hearing from you!
~ Dylan Fitzpatrick
REALTOR®
Cell: 250-575-3376
Email: dylanfitzpatrick123@hotmail.com
---
AGENT LISTINGS