The BC government proposed the creation of the UBC branch in the Okanagan in 2004. UBCO (known as University of British Columbia Okanagan) is located across HWY97 from the airport.


Photo Credit: //ok.ubc.ca/
In September 2018, nearly 10,000 new students came to UBC Okanagan to go to school, and UBCO expanded rapidly. UGCO new registrar Fred Vogt said: "We expect more than 2,400 freshmen in September. We also see more and more students continuing to study in
continuing

 education, which shows that our campus and courses are very attractive."

According to UBCO, staff and faculty are preparing to recruit more than 3,680 freshmen, including 650 freshman international students. The international student population comes from 108 countries around the world. There are 8,996 undergraduate and 950 students pursuing a master's or doctoral degree.
"In just over a decade, the number of students on campus has almost tripled," said Deborah Buszard, vice president and principal of UBCO. "There was an incredible change here, and it's great to see other regions from Canada and More and more students around the world choose to study at UBCO."
"With the high number of students entering the school, we have made community development a top priority. From the innovative InnovUBC Center in Okanagan to the UBC Okanagan Institute, we are committed to making a meaningful contribution to society."
Photo Credit: Capital News
Now apartments around the campus can only meet the needs of 20% of students, and 80% of students have to rent a house far away from the school. In the fall of 2018, CMHC announced that Kelowna's housing vacancy rate was as low as 1.9%, adding to the problem of student accommodation, making students looking for off-campus accommodation and the same difficulties on campus. The increase in rent is an inevitable trend.
With the 25% increase in students each year, parking around the campus is also a problem. For each academic year, students have a parking fee of up to $500.
There are also a full range of facilities around the property, such as restaurants, grocery stores, cafes, and hairdressers. . .  It is only a 5-minute drive from Kelowna International Airport. It is a 9-minute drive from Orchard Park Mall and a 7-minute drive from Costco.
U8 has a total of 90 units, three floors, north-south orientation, Freehold land ownership!
U8 is expected to be completed in August 2020 to provide accommodation for students enrolled in 2020/21. There is no age limit for the building, there is no rental restriction (no restrictions for 30 days or more, no short-term rental), and pets are allowed with restrictions.
Designed by Meiklejohn Architects, it offers a unique "modern campus" feel. The units are studio single apartment, one bedroom unit, two bedroom unit and three bedroom unit.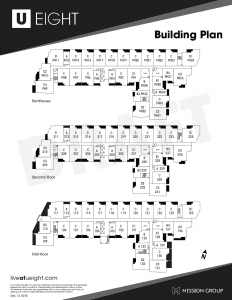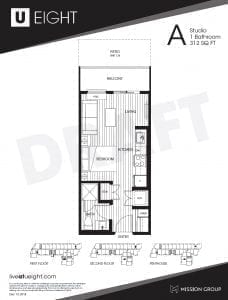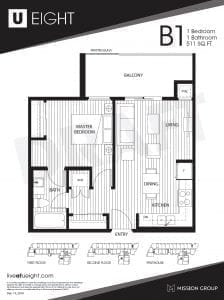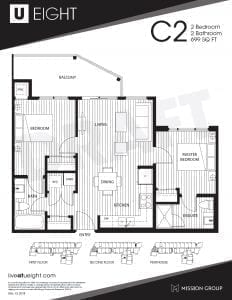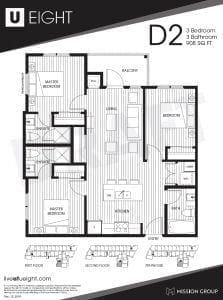 Some Floorplans and Building Plan
If you buy a U8 for your child, you can rest assured that your child will live in a very safe building. Secure underground parking lot with gate, emergency call button in the building, security camera in public space, FOB in the lobby door to ensure safe access.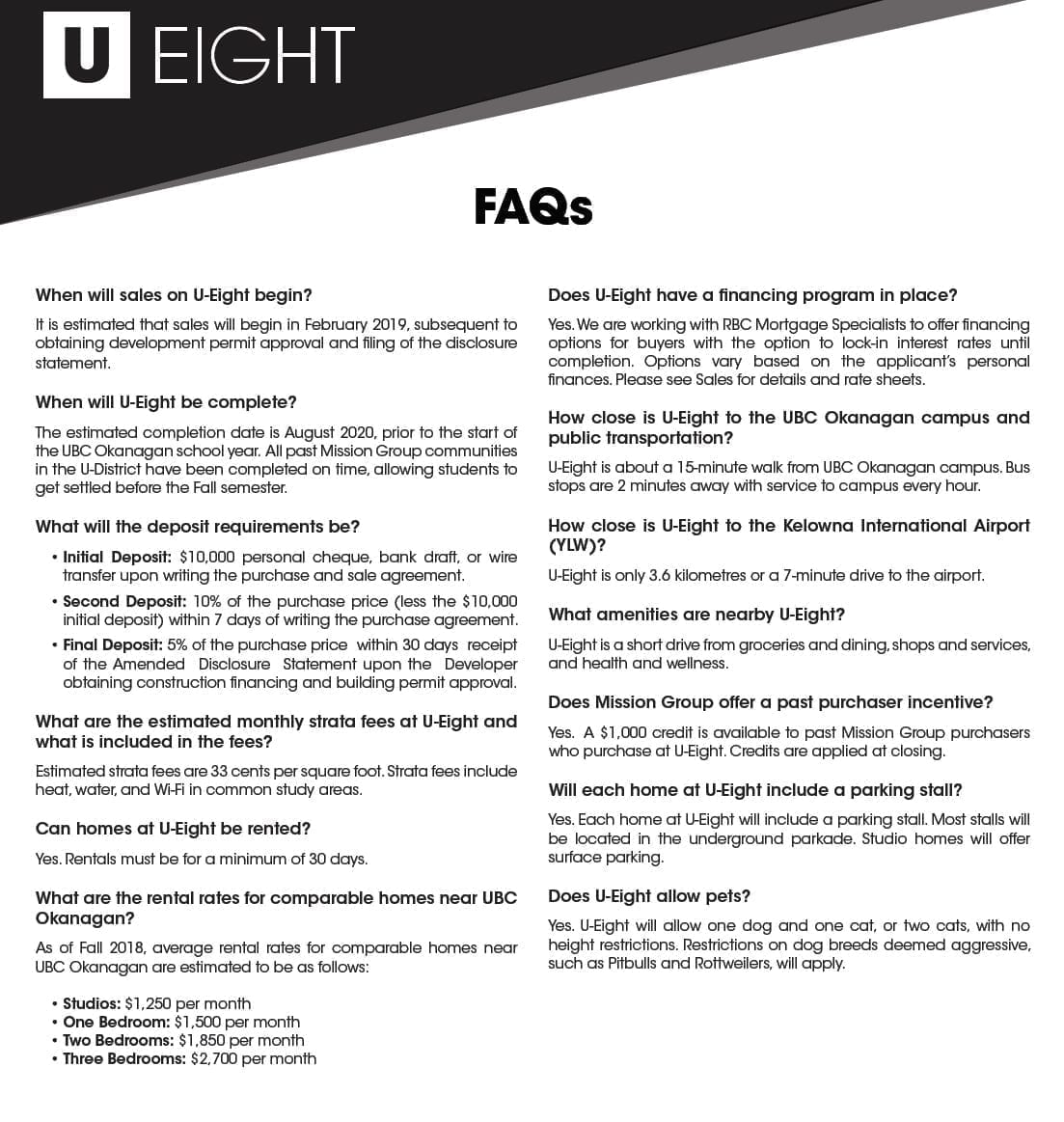 When does U-Eight's sales start?
It is estimated that sales will begin around January 25th, 2019 for clients who are registered ahead of time.
Contact us to be registered!

When is U-Eight completed?
The expected completion date is August 2020
Deposit (15%):
Initial deposit: $10,000 personal cheque, bank draft or wire transfer, delivered upon signing of the purchase and sale agreement.
Second deposit: 10% of the purchase price (minus $10,000 between deliveries)
The initial deposit) is delivered within 7 days of signing the purchase agreement.
Final deposit: The developer's revised disclosure statement is approved for construction financing and building approval and is delivered for the remaining 5%.
What is the estimated monthly property management fee for U8?
Estimated to be 33 cents per square foot.
What is the approximate rent?
As of the fall of 2018, the average rent is as follows:

Single Apartment: $1,250 per month
One bedroom unit: CAD 1500 per month
Two-Bedroom Unit: $1,850 per month
Three-Bedroom Unit: $2,700 per month
Will every parking space in U-Eight have a parking space?
Each unit of the U8 includes a parking space.
Most units have parking in the underground car park.
Ground parking will be available in the single apartment.
If the U8 is sold for the weekend, the developer will provide a rebate, and the Letnick Estates Group will do their best to grab the unit for the weekend and get the rebate for you! For specific information and prices, please contact the Letnick Estates Group.