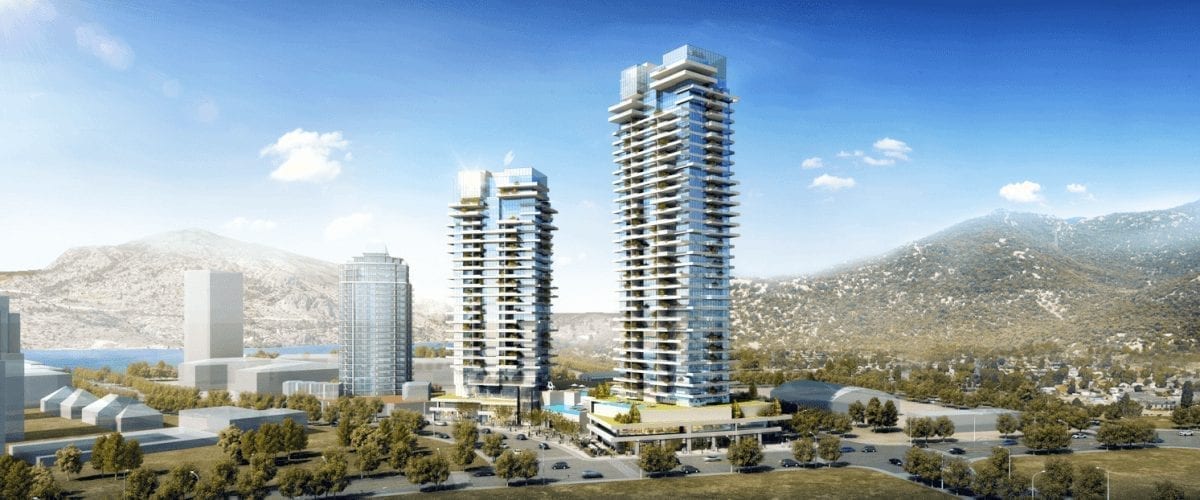 Welcome to Kelowna located in the Okanagan Valley within British Columbia. Pristine fresh water lakes, award winning food and wines along with temperate climates and affordable housing prices makes Kelowna one of the top locations in the world. This is no longer a secret and the world has started paying attention to Kelowna real estate.
With one of the busiest international airports in North America and dark fiber internet infrastructure (both owned by the Kelowna municipality) you can have a sure bet that Kelowna is becoming one of the popular locations for tech start ups and existing giants to work and play.
With so many benefits to living in Kelowna, it shouldn't surprise anyone that we now have the lowest real estate inventory in the last 10 years and less than 1% rental vacancy rate. Now more than ever Kelowna needs more residential development to increase supply to match demand which makes "One Water" a breath of fresh air.
ONE Water Street is located in the high-end area of ​​Kelowna city center at the corner of Water, Sunset and Ellis; 2 minutes walk to the beach, Surrounded by Kelowna local restaurants, shopping centers, casinos, marinas, and yacht clubs.
ONE Water Street is the most attractive new property for Kelowna city center. It has two well-designed high-rise buildings that will combine residential and commercial property in a resort style living.
3 high-quality elevators to ensure you are safe and fast.
Parking on the ground under amenities.
15 different units, including townhouses, single apartments, 1 bedroom, 2 bedroom, 2 bedroom + office, 3 bedroom, sub-pent house, pent-house and more.
1.3-acre landscaped fourth floor podium with all kinds of indoor and outdoor amenities.
Outdoor swimming pools, fire pit, health club, yoga studio, entertainment room, and more.
The builder Kerkhoff Construction has a 50 year experience in state-of-the-art apartment and commercial buildings in BC, and the company has a very high reliability and integrity.
Developers North American Development Group North American Development Group (NADG) has extensive experience in local and global real estate development since its inception in 1977.
VIP Purchase Registration
Since this is a unique development in Kelowna and there will be huge demand; the developer has decided to arrange private tours of the showroom through your real estate agent. Pre-sales start for "One Water" near the end of September 2017 and units will most likely sell out quickly. Contact us TODAY to schedule your no obligation tour of the show room.
Contact Us Today!
Phone:
778-363-1314 (English)
778-363-8859 (Mandarin)