According to statistics from OMREB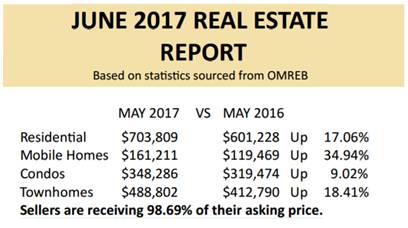 Spring is the busiest time in the property market, with average house prices in the Central Okanagan rising 17.06% in 2017, averaging $703,809 a record high. Mobile Home prices have grown by 34.94%, because there are not enough houses on the market; especially homes for less than $200,000. With so many small families, young people or first time home buyers looking to buy, they now have to choose a cheap mobile house or an apartment. Speaking of apartments; the spill over from home sales have also made the condo market increase in price steadily with 9.02%. Townhouses grew more than the independent houses, reaching 18.41%.
Kelowna's demand for housing is far greater than the amount of houses on the market. There have been many times now where there are multiple offer situations making buyers feel pressure.  Roughly 56% of buyers are locals, Vancouver and Vancouver Island buyers accounted for 20%. Buyers from Alberta accounted for 8.5%. Foreign buyers accounted for 19% of similar properties, the first time buyers accounted for 18.5%.
In this rapidly changing and highly competitive seller's market, it is particularly important for buyers to have solid loans / pre-approved financing.
First of all, get pre-approved for a loan. Holding a pre-approval letter will help make your offers stronger.
Ensure that your financial situation is stable. Do not just give up your job and stick to your existing employer. Try not to reduce your income.
Try not to add new loans, such as car loans, furniture loans. New loans are very likely to affect the housing loans you are currently working on.
Try not to help others in this period co-sign or apply for a loan.
Pay all your bills on time. If you do not pay or delay payment, this will affect your credit score.
Prepare the funds for all of the other fees related with buying real estate such as attorneys' fees, real estate transfer tax, room inspection fees, land tax payable and property management fees and so on.
Do not follow the advice of the undocumented "loan broker".
Whether you are buying a house or selling a house you need a professional real estate expert to help you negotiate, deal with the contract and loan brokers. We also help you consult with lawyers to help you complete the process of buying a house. Letnick Estates real estate team will help you provide the most professional and most efficient service.