Above is a photo of the University of British Columbia Okanagan, referred to as UBCO.
in 2004, the BC government proposed the creation of the Okanagan branch of the University of British Columbia and it would be located in Kelowna BC.
In September 2018, nearly 10,000 new students came to UBC Okanagan to go to school, and UBCO expanded rapidly.
UBCO's new registrar, Fred Vogt, said: "We expect more than 2,400 freshmen in September. We are also seeing more and more students continue to study continuing education, which shows that our campus and curriculum are very attractive. Total students this year More than 900 students during school in September last year."
According to UBCO staff and faculty are preparing to recruit more than 3,680 freshmen, including 650 freshman international students. The international student population comes from 108 countries around the world. There are 8,996 undergraduate and 950 students pursuing a master's or doctoral degree.
"In just over a decade, the number of students on campus has almost tripled," said Deborah Buszard, vice president and principal of UBCO. "There was an incredible change here, and it's great to see other regions from Canada and More and more students around the world choose to study at UBCO."
The blueprint for the future planning of the UBC Okanagan campus in Kelowna, which includes investments in more than $452 million, is expected to have more than 18,000 students by 2040. In the 2040 blueprint, a new sports center, an academic building and three student residences were built, as well as an innovation zone for cooperation between UBCO University and companies.
The new buildings are shown in lighter colours and the green roofs indicate that they will be equipped with solar roofs.
The new building includes future ICI academic buildings, Nechako and Skeena residential areas, as well as new track and field centers.
According to Deborah Buszard, Vice President of UBCO, by 2040, approximately 25% of UBCO students will be composed of international students. Buszard also commented that about 40% of graduates are currently able to find jobs in the Okanagan area of ​​Okanagan, and KF Aerospace, Interior Health and the technology industry all play important roles.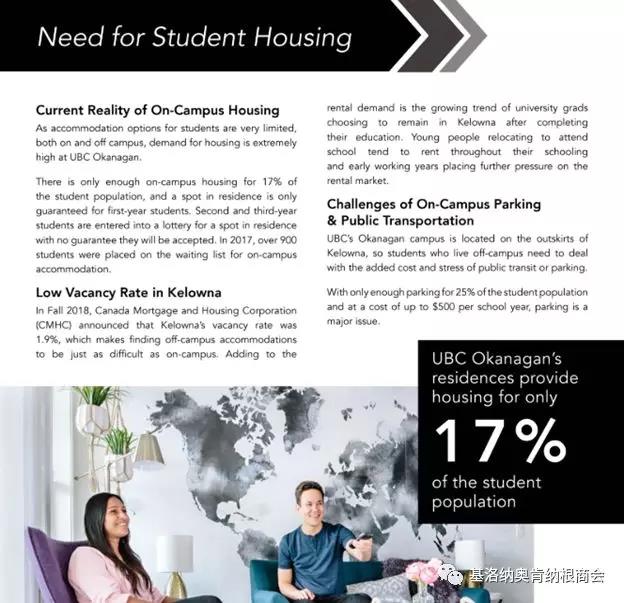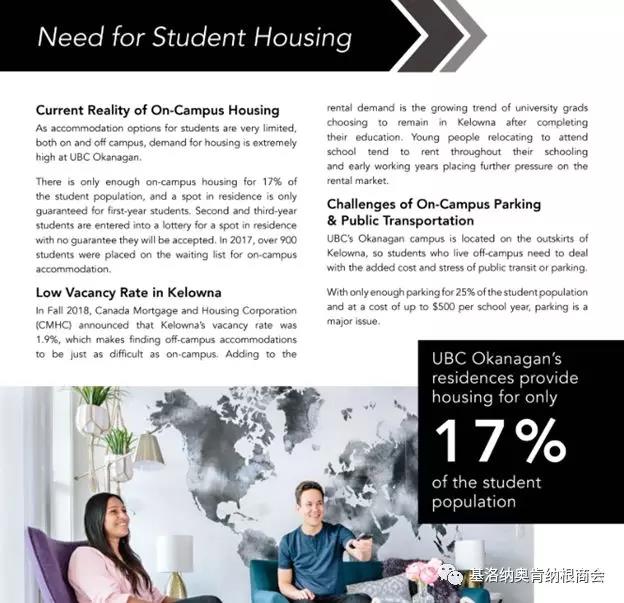 Now the apartments around the campus can only meet the needs of 17% of students, and 83% of students have to rent a house far away from the school.
In the fall of 2018, CMHC announced that Kelowna's housing vacancy rate was as low as 1.9%, which made the students' accommodation problems worse, making students looking for extra-campus accommodation and the same difficulties on campus. The increase in rent is an inevitable trend.
And with the 25% increase in students each year, parking around the campus is also a problem. For each academic year, students have a parking fee of up to $500.
The last apartment building, built by the Mission Group, one of the largest developers in the Okanagan, U-Eight (U8) allows students to walk to school without worrying about paying for parking and finding parking spaces. This is the dream of many UBCO students.
Designed by Meiklejohn Architects, it offers a unique "modern campus" feel.
Each home is equipped with a washer dryer, a kitchen designed for students, and a bathroom in each bedroom. The bedroom is very spacious and can accommodate beds, wardrobes, desks and much more. U-Eight provides an environment that helps students learn and thrive
There are also a full range of facilities around the property, such as restaurants, grocery stores, cafes, and hairdressers. . . . It is only a 5-minute drive from Kelowna International Airport.
It is a 9-minute drive from Orchard Park Mall and a 7-minute drive from Costco.
U8 has a total of 90 units, three floors, north-south orientation, Freehold freehold.
U8 is expected to be completed in August 2020 to provide accommodation for students enrolled in 2020/21. There is no age limit for the building, there is no rental limit (no restrictions for 30 days or more, no short-term rental), and pets can be raised.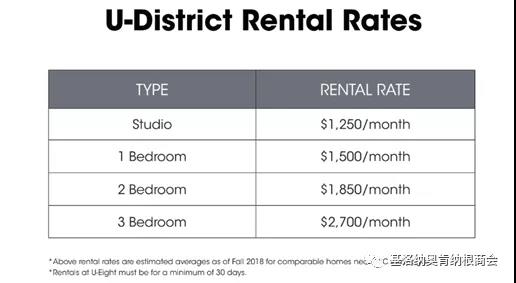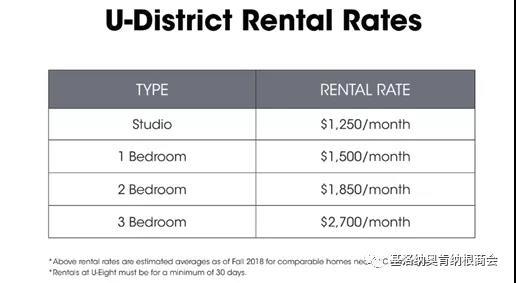 When is U-Eight completed?
The expected completion date is August 2020
Deposit (10%):
• First deposit: 5% of the purchase price, delivered within 7 days of signing the purchase agreement.
• Second deposit: 5% of the purchase price, delivered within 30 days of signing the purchase agreement.
What is the estimated monthly property management fee for U8?
Estimated to be 33 cents per square foot.
What is the approximate rent?
As of the fall of 2018, the average rent is as follows:
• Single Apartment: $1,250 per month
• One bedroom unit: CAD 1500 per month
• Two-Bedroom Unit: $1,850 per month
• Three-Bedroom Unit: $2,700 per month
Will every parking space in U-Eight have a parking space?
Each unit of the U8 includes a parking space. Most units have parking in the underground car park. Ground parking will be available in the single apartment.